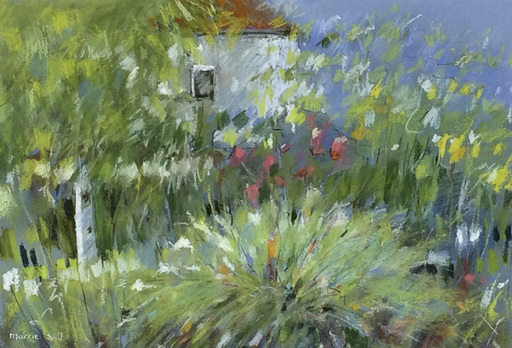 "There is basically an urge to create and the love for the material and technique. I can enjoy and be moved to a wonderful and sensitive drawing line or the structure of paint".
On this web-site I present a selection of my work. I once started to draw and this would form the basis for a long period of self-tuition. By doing so I have learned to master various techniques. For several years I have drawn portraits and from a model in an open studio. The used techniques are pencil, chalk and oil pastel.

As regards painting, I am self educated. I paint with acrylic on cardboard, on panel and linen. Light is an important element in my work, as well as the use of mostly primary colours.

While painting and drawing I leave space for the creative process as long as possible. This gives unexpected effects, and I always have the option to use them. Working this way incites the creation of new work, new opportunities to discover and to challenge myself.

Of late I started to draw more often again. Drawings in colour and - if the object calls for it – subdued or in shades of grey.
The works that now have been sold are – with one exception - no longer on this site. If you want to see the original work, look at exhibitions. It is also possible to see my work by appointment.

If you want to stay informed of my work and exhibitions, please subscribe to my newsletter here. If new work or a new exhibition is added to my site, you will receive the newsletter via email.

Other comments or questions are always welcome. marriescheltes@hotmail.com